Oseque Dual Skincare Bubble Mask (24ml5pcs)
$13.00
Regular price
Unit price

/

per
Quantity selected exceeds current stock
Adding product to your cart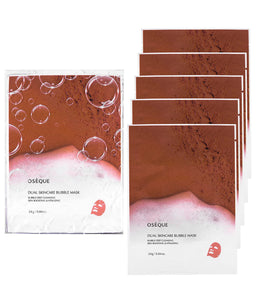 RECOMMENDED USE
- After washing the face and applying skincare, unfold sheet 9 before use, rub the surface of the bag to help the formula spread well).
- Apply the mask over the eye area first, then gently spread it over the face.
- After about 5-10 minutes, remove the sheet when the bubbles come in abundance.
- Massage the remaining bubbles onto the skin and wash it off with lukewarm water.
PRODUCT INFORMATION
Skin type: normal skin, combination skin, oily skin.
Content / Format (ml/gr): 0.85 oz 5pcs
Description
★ Glowing: With the help of carbonic acid and oxygen foam, the professional facial masks -  Oseque double bubble mask offers a radiant and healthy glow to your skin. 
★ Pore Cleansing: Five-color noble soil enriched with beneficial minerals, enzymes and yeast absorbs all impurities, soothes and cleanses the skin, and salicylic acid and fruit extracts help remove dead skin cells and are the perfect facial mask skin care products for pore cleansing. 
★ Skin hydration: The professional facial masks also contain sodium hyaluronate and provide moisture along with reducing external irritation. 
★ Deep Purifying - The facial masks skin care product performs double foaming and helps clean clogged pores and control oil without drying the gentle skin. 
★ Calming effect: naturally-derived ingredient allantoin found in professional facial masks helps calm skin barriers, and sugar maple extract improves skin texture. 
Caution:
In case of side effects such as red rash swelling and/or itching during use, or after use when skin is exposed to direct sunlight, consult a dermatologist.
Do not apply on the parts where you have scars, eczema, or dermatitis.
Keep out of the reach of children. Avoid direct sunlight.
Your payment information is processed securely. We do not store credit card details nor have access to your credit card information.
This website is encrypted. We take your security very seriously. All transactions powered by Shopify.
Exact rates will be provided at checkout. Free delivery for US orders above $89