Stacy Lash Cream Remover for Eyelash Extension Glue - Mango - 15g
$13.99
Regular price
Unit price

/

per
SKU: Mango Remover 15g
Quantity selected exceeds current stock
Adding product to your cart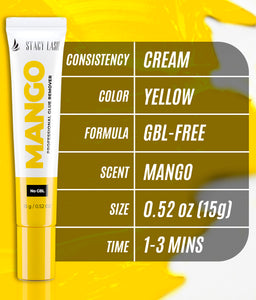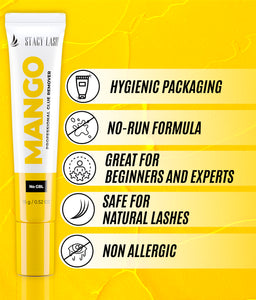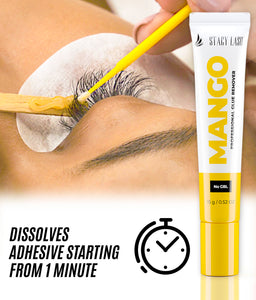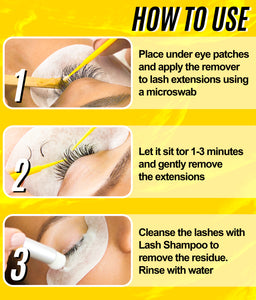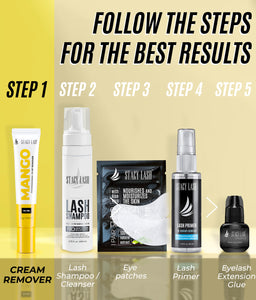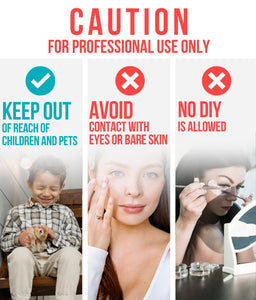 RECOMMENDED USE
- Designed for professional use by certified lash extension artists of all levels. Recommended for beginners. Thanks to its technology of appliance and its consistency it's easier to prevent contact with bare skin. Once applied, it doesn't leak into the client's eyes. This type of eyelash glue remover helps to remove eyelash extensions in a safer way. Use in a well-ventilated environment.

- Bright yellow color is easily noticed and it will allow you to receive a better work experience due to its pleasant smell. A very minimal amount of cream remover is needed.

- With the help of a micro brush, apply a thin layer of the adhesive remover on eyelash extensions (about 1 mm from the base) and wait about 2 minutes. Prevent contact of the eyelash extension glue remover with the eyes and bare skin. After 2-3 minutes (sometimes it might take longer, the time depends on the individual eyelash type of each client) you will be able to remove the lash extensions with tweezers or a cleansing brush. Please note that it's strongly recommended to ensure that the adhesive has been entirely removed and then it's required to cleanse the eyelashes, using the lash shampoo and primer.

- Please do not forget to carefully and firmly tape down your bottom eyelashes. Clients must keep their eyes closed tightly during the whole procedure. In case of eye contact immediately rinse with plenty of water for 15 minutes.

- When removing the eyelash extensions after 2-3 minutes please allow your clients to open their eyes only after you washed off the removal area and made sure that the cream is completely removed.
PRODUCT INFORMATION
Adhesive dissolution time: about 3 minutes
Color: Yellow
Volume: 15 ml / 0.51 Fl. Oz.

Our Cream Remover is cruelty and latex-free.
INGREDIENTS
4-Methyl-1, 3-dioxolan-2-one, Polyethyleneglycol, Polypropylene glycol, Polyacrylic acid, Mineral talc powder, Mango Fragrance, Methyl paraben, Propyl paraben, Butyl paraben, Pigment
Description
★ Creamy Formula - the creamy formula of the Stacy Lash Cream Remover for Eyelash Extension Glue - Mango guarantees a safe and pleasant use for lash artists and lash clients. The product is cruelty-free, latex-free, and beginner-friendly. 
★ Fast-Acting - the lash extension remover cream can fully dissolve eyelash extension glue within minutes. The cream remover for eyelash extensions works even on the most steadfast of extensions and has fast-acting properties. 
★ Safe Use - the gentle formula allows effortless application by lash artists. The lash extension remover cream is safe to apply, due to its creamy formula, it doesn't leak into your client's eyes, and does not cause irritation, burning, or itching. Simply apply a thin layer of the cream remover to dissolve the lash adhesive. 
★ Smell and Packaging - Pleasant scent and hygienic packaging of the Stacy Lash Cream Remover for Eyelash Extension Glue - Mango make the overall process of lash extensions even more enjoyable. The 15g cream remover for eyelash extensions is available in Mango and Rose scents. 
★ Quality Assurance - We guarantee the highest quality of Stacy Lash Cream Remover for Eyelash Extensions. We protect you and your clients, offering only premium quality products that conform to international standards.
★ Money-Back Guarantee - If you are not 100% satisfied, just contact us and we will do our best for you. The mission of the Stacy Lash brand is to provide eyelash extension experts with superior quality and premium-grade materials to give the ultimate highlight to the beauty of the eyes of your clients.
WARNING: DO NOT USE THE PRODUCT FOR SELF-APPLICATION. PROFESSIONAL USE ONLY 
HOW TO STORE:
We would like to draw your attention to the fact that it's needed to keep the remover out of reach of children and pets.
Store in a cool, dark, and dry place for prolonged shelf life in the re-sealable package with silica gel to help preserve freshness. Please do not leave this product under direct sunlight. Keep the container tightly closed when you are not using the cream remover.
If you experience any issues, minor allergy cases, irritation, itching, burning, etc. please consult the physician. In the case of eye contact, it's recommended to abundantly rinse them with water.
The Stacy Lash brand has been specially developed for the US and European markets. It is made of chemical ingredients of supreme quality. The Stacy Lash brand supplies premium-grade materials for eyelash extension professionals.
Your payment information is processed securely. We do not store credit card details nor have access to your credit card information.
This website is encrypted. We take your security very seriously. All transactions powered by Shopify.
Exact rates will be provided at checkout. Free delivery for US orders above $89