Stacy Lash Eye Pads 100pack
$23.99
Regular price
Unit price

/

per
Quantity selected exceeds current stock
Adding product to your cart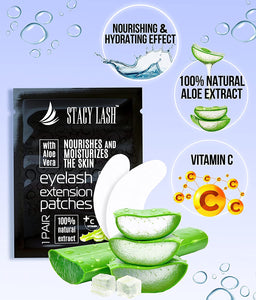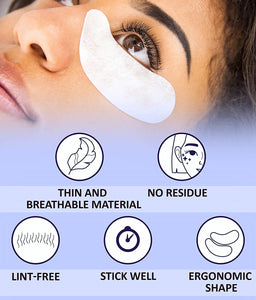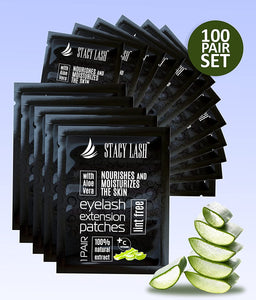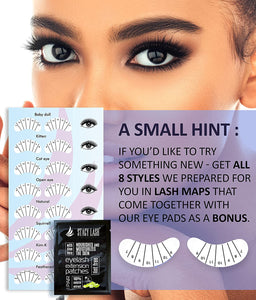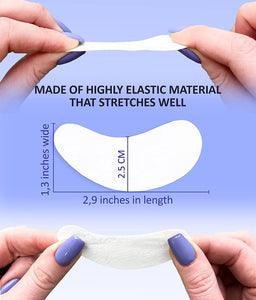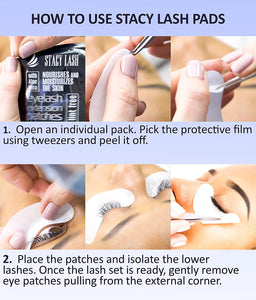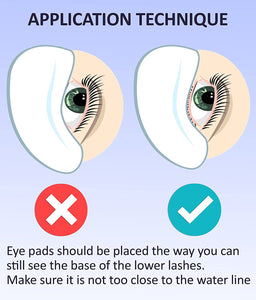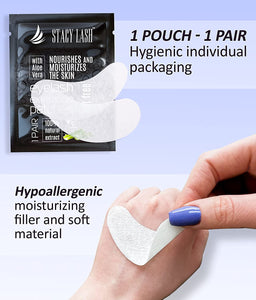 RECOMMENDED USE
Ask your client to look up to have her eyes wide open, with upper lower lashes well separated from the lower ones.
Carefully lay the pad onto the lower eyelid, 0.5-1 mm from lash roots, stretching it as needed. Avoid touching the eyeball. Move it slightly back and forth to get all lashes covered. Press slightly its upper edge to fix it, still leaving the rest loose.
Fix the outer corner
Ask your client to close her eyes, then proceed to affixing the whole of the pad moving from the outside towards the inside, avoiding wrinkles or bubbles.
Remove by pulling slowly from the external corner to the inside.
PRODUCT INFORMATION
Pad size: 7.9(L) x 2.9(W) cm / 3.11 x 0.79 in
Material: Hydrogel (glycerin-based)
Color: White
Ingredients: Hydrogel, Glycerol, Aloe Extract, Vitamin C
Description
Luxurious Hydration with Natural Aloe Extract + Lint-Free Comfort under eye pads eyelash extensions
Immerse your clients in the epitome of lash luxury with Stacy Lash Eye Pads. Enriched with 100% natural Aloe Extract and Vitamin C, these pads deliver deep moisturization and hydration to the under-eye area. Crafted to be lint-free and suitable for all skin types, they provide a sumptuous experience for your clients during eyelash extensions. Must have eyelash tools.
Steadfast Comfort with a Stable Hold: Stacy Lash Eye Pads offer a secure and stable hold on skin, ensuring comfort throughout the entire lash extension session. Safeguard your client's lower lashes from direct exposure to eyelash glue fumes while delivering enduring comfort. Elevate your lash application with pads that adhere seamlessly and provide a soothing experience.
Breathable Thin Design for Unmatched Comfort: The thin material of our under-eye patches allows the skin to breathe, enhancing client comfort during lengthy lash sessions. The ergonomic shape ensures a snug fit, providing a unique level of comfort. Lash artists can work effortlessly, knowing their clients are relaxed and pampered.
Effortless Application and Removal: Stacy Lash eye pad for eyelash extension not only nourishing but also easy to work with. Effortlessly apply, reapply, and remove them from the client's skin, simplifying your lash extension process. Position them 0.5-1mm from the lower lash line for a flawless and seamless application. Your clients will appreciate the ease and care in every step of their lash experience.
Unrivaled Value in Every Pack: Maximize your savings with our bulk economy pack – 100 pairs of high-quality hydrogel lash pads for eyelash extensions. Designed for professionals, these pads promise durability and longevity across numerous lash sessions. Stacy Lash eyelash extension pads deliver unmatched value and exceptional quality, ensuring you are well-equipped for every client.
Our Commitment to Your Satisfaction: Your satisfaction is our priority. If you encounter any issues with our eye pads for lash extensions, contact us for a solution. Whether it's a defect, damage during transit, or unexpected performance issues under proper use, we stand behind our product with replacements, exchanges, or refunds. Your peace of mind is our guarantee.
Professional-Grade Care with FDA Registration
Trust in the professionalism of Stacy Lash Eye Pads, produced by an FDA registered manufacturer. Meticulously designed for professional use, these pads offer protection for lower lashes and skin while providing moisturizing benefits for the under-eye area.
Caution for Safe Usage:
- Non-reusable, intended for single-use only
- Avoid use on sensitive or damaged skin
- Prevent contact with the eyeball to avoid bruising
- Keep out of reach of children
Elevate your lash artistry with Stacy Lash Eye Pads — a harmonious blend of luxury, functionality, and unmatched value in every pack. The journey to exquisite lash extensions begins here.
Your payment information is processed securely. We do not store credit card details nor have access to your credit card information.
This website is encrypted. We take your security very seriously. All transactions powered by Shopify.
Exact rates will be provided at checkout. Free delivery for US orders above $89