Stacy Lash Super Booster For Eyelash Extensions 0.50 fl. oz./ 15 ml
SKU: Super Booster
$16.99
Regular price
Unit price

/

per
Quantity selected exceeds current stock
Adding product to your cart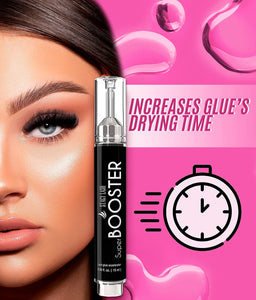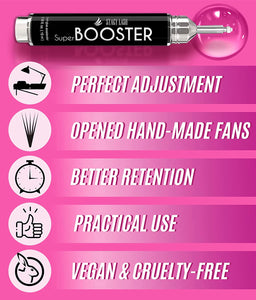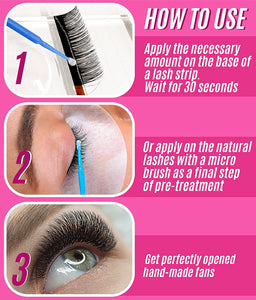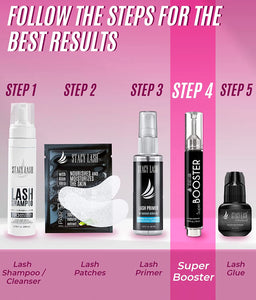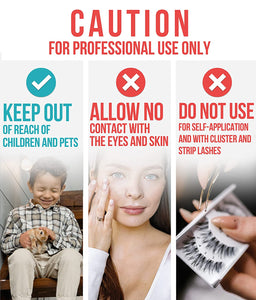 INGREDIENTS
Acs Reagent Grade Water, L-Arginine, Propane-1,2-diol, H-leu-OH, Citric Acid, Vitamin A palmitate, Halite.
RECOMMENDED USE
✅ Use no later than 6 months after opening.
✅ Instructions:
- Place the necessary amount of product on the base of the eyelash extension strip. Wait for 30 seconds for it to dry. This will help to prevent your lash fans from closing.
- You can also use this product after the pre-treatment procedure (after using lash shampoo for lash extensions and eyelash extension primer) by applying our Glue Accelerator to the natural lashes with the help of a micro brush. However, be careful not to overdry your client's natural lashes, as it may lead to retention issues.
Description
★ Works for low humidity - Now you don't need a ton of expensive devices to make your eyelash extension glue work just as it should. Thus, if your room is too dry and you have difficulties with setting the correct humidity level, just add Super Booster to your lash routine and you will notice the difference right away. 
★ Increases work speed - you'll perform the procedure faster and more efficiently. Our Booster accelerates the glue curing process and helps the extensions to adhere better to the natural lashes. 
★ Prevents your handmade fans from closing up. Your eyelash extension glue is instantly cured, which stops it from leaking and keeps your lash fans perfectly wide.
★ Completely vegan, latex-free, and cruelty-free. Designed with a gentle formula with no harmful elements to the natural lashes. 
★ Works with any eyelash extension adhesive of your choice. Safe and easy to apply. Equipped with hygienic packaging, for the most comfortable use. 
Stacy Lash Super Booster is the new innovative product on the lash market. An absolute must-have item among lash extension supplies for every lash artist who wants to become more professional and trendy!
We are happy to announce that our eyelash glue accelerator will be an indispensable helper in many difficult situations, which lash techs face every day.
How does our Booster work?
When the booster is applied, the lash glue dries up straight away firmly bonding extensions together, which prevents your fans from closing up. Thus, our Super Booster accelerates the curing process of your lash adhesive.
As our lash extension glue activator significantly speeds up the bonding time, it could be a great option for your sensitive clients. You can still use milder adhesives without compromising your work speed, as the booster will make them dry much faster.
Your payment information is processed securely. We do not store credit card details nor have access to your credit card information.
This website is encrypted. We take your security very seriously. All transactions powered by Shopify.
Exact rates will be provided at checkout. Free delivery for US orders above $89