Stacy Lash STL-14 Curved L-Shaped Multifunctional Tweezers for Eyelash Extensions
SKU: STL-14 Curved
$15.79
Regular price
Unit price

/

per
Quantity selected exceeds current stock
Adding product to your cart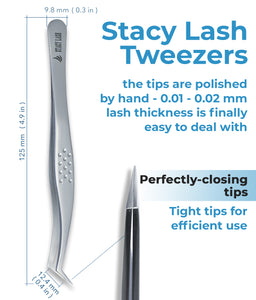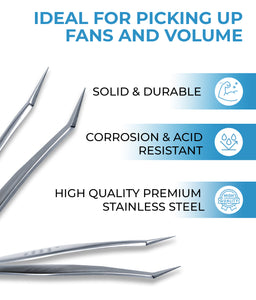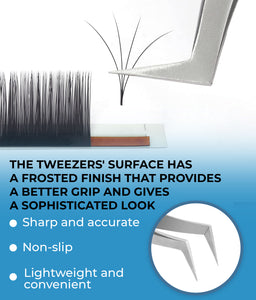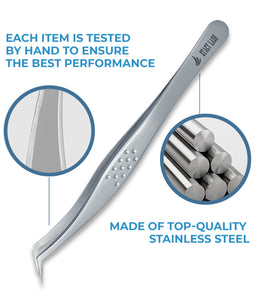 PRODUCT INFORMATION
✅ Shape: L
✅ Ideal for: Cassic& Mega Volume
✅ Length: 125mm
✅ Width: 9.8mm
✅ Tip Length: 12.4mm
✅ Material: Premium Quality Stainless Steel
✅ Anti-Magnetic
✅ Anti-Acid
✅ Non-Corrosive-Non-Glare
✅ Non-slip
✅ Tips Polished by Hand

RECOMMENDED USE
✅ Be careful when used. Make sure there is enough space around you as the tips are sharp and can cause unexpected but harmful incidents, such as puncturing a client.
✅ Make sure you use a different pair of tweezers for different eyelash extension styles in order for tweezers not to get too loose.
✅ Remove any adhesive from the tweezers. Always keep them clean, it helps to prolong the life of tweezers.
✅ Remember to sterilize your tools after each use.
✅ Try not to let the tweezers fall. The tip is fragile.
✅ Keep the tweezers in a dry and enclosed tweezer case.
HOW TO STORE
✅ Sterilize your lash tweezers right after use. Do not allow your glue to cause damage to your tools. Also, sterilize your tweezers thoroughly after every lash extension appointment before the next client's visit.

✅ The tips of your eyelash extension tweezers demand extra care, as they can be easily deformed. Stacy Lash Tweezers are equipped with a protective case to keep them sharp and secured from being damaged or bent. A silicone cap helps the tweezers last longer.

✅ Make sure you put the tweezers in a safe place while not using them to secure them from falling down. It significantly prolongs the life of your supplies. Also, make sure you won't do any harm to your client. Ask them not to make any sharp moves while you are holding tweezers and to lie still.

Description
✅ FROM CLASSIC TO MEGA VOLUME- 

 Lash Extension Tweezers are

 suitable for both classic and volume eyelash extensions (2D, 3D, 6D, Hollywood) for really demanding lash artists.

✅ CONVENIENT & TOP-NOTCH - Made of superior quality stainless steel, non-corrosive, non-glare, and acid-resistant, very solid. These professional eyelash tweezers are coated in an anti-magnetic and non-slip material. Easily used and sterilized. 

✅ SHARP & RELIABLE - 

These curved tweezers help you apply extensions smoothly, clamping any thickness, even if it is only 0.01 or 0.02.

✅ ERGONOMIC DESIGN - 

Perfectly aligned, the tips of each item are polished by hand, and each item is tested to ensure the best grip and performance.

✅ DURABLE AND ACCURATE - These lash tweezers will accurately repeat the smallest movement and help to grab any lashes: from the thinnest individual eyelash extensions to tiny natural eyelashes.
As you know, lash extension tweezers are among the essential supplies in every lash tech's kit. Moreover, they are with you at every step of the procedure. Thus, being a lash tech means mastering the artistry of professional lash extension tweezers usage.
So, here we present the new Stacy Lash premium-quality eyelash extensions applicator for all types of lash extension techniques (Volume & Classic, Fan-making).
Perfect for your hand, always gives you a pleasant use experience, and will stay in good condition for a long time, if used properly. Considering the right storage conditions, the tips will stay sharp, being your convenient companion. You will be able to make your hand-made fans perfectly open and wide. Made of a corrosion-resistant and anti-magnetic material, that would be easy to clean after each use.
Our Curved L-shaped tweezers for lash extensions are not only suitable for volume and classic style but also help to make perfect hand-made volume fans. A pair of L-Shaped tweezers makes it easy to attach them as well. The tips are closed without effort, which promises a whole day of a pleasant experience, without any numbness or other issues. This lash tool is for all types of volume lash extensions, including Russian volume and fan picking. Most pleasant and convenient experience with flawlessly opened hand-made fans. Stacy Lash high-quality premium stainless steel tweezers are anti-acid, non-corrosive, and rust-proof, which makes them wear-resistant.
Your payment information is processed securely. We do not store credit card details nor have access to your credit card information.
This website is encrypted. We take your security very seriously. All transactions powered by Shopify.
Exact rates will be provided at checkout. Free delivery for US orders above $89